Airsoft is cool all year long. Here are 6 tips we learned to help a lot while playing airsoft in winter.
Use the right gas 💨
To this day, using gas rifles and pistols in temperatures of around -5 °C and lower (23 °F for freedom unit users) is very tough. However, in temperatures above that, a combination of a good gun with the right gas can allow you to shoot even in winter.
Why can't you use the same gas year-round?
You see, gas pressure decreases when it's cold…
Read more
On top of that, temperature flies further down when the gas expands (meaning when you shoot) – which causes further pressure drops.

When you put together these cooldowns with low ambient temperatures, you can get to the state where the gas pressure is too weak for the gun to cycle. This may cause the magazine to just let the gas out into thin air. Not good.
To fight it, you either heat up your magazines, increase the gas pressure or do your best to make your gun 100 % gas efficient. You can read more about the gas in airsoft here:
Show less

Right Gas Temperatures – Simple Chart
Using a stronger gas with your gun is the simplest solution if your gun can handle it. Here is a chart to help you choose the right gas*:
| Temperature (°C) | Temperature (°F) | Ideal Gas |
| --- | --- | --- |
| <0°C | <32°F | Consider HPA |
| 0°C – 10°C | 32°F – 50°F | Black Gas |
| 11°C – 20°C | 51°F – 68°F | Red Gas |
| 21°C – 30°C | 69°F – 86°F | Green Gas |
| >30°C | >87°F | Blue Gas |
*Take this general recommendation with a grain of salt. If you own a NOVRITSCH Gas Gun, you will always find the specific temperature tested by us on the product page.
⚠️ Some guns may not withstand the increased pressures of Red or Black Gas. Always make sure your gun is compatible with these stronger gases!
Go electric/HPA ⚡️
An alternative is to use guns that are powered by batteries or HPA. This one is simple, especially since AEGs are the most common systems. However, if you still love the kick of a good Gas Pistol, HPA might be a good way to keep it kickin' even in winter.
We actually wrote a complete guide on a cheap and reliable way to use pistols with HPA. It's still not free, but the fun is almost guaranteed:
However, if HPA is not for you, ensure you have an extra LiPo battery for your AEG. And as for a secondary, we definitely recommend the Novritsch SSE18. It's the famous G-Style design but in an electric package, making it independent of the outside temperature.

Keep yourself warm 🔥
This one likely doesn't come as much of a surprise. But keep in mind that if your fingers are freezing, you won't be able to hit much. Moreover, getting hit when you're cold actually hurts a bit more. Here are a few tips to keep the correct temperature:
Get tactical winter gloves.
Wear some winter undergarments. Skiing sets work perfectly here.
Get proper socks. Not just some random ones. The difference is notable.
Head to the field with a thermal flask with some hot tea.
🍺 Just so you know, alcohol doesn't actually warm you up. And you shouldn't really be drinking when guns are around.
Get proper shoes 🥾
Just keeping yourself warm doesn't cut it for shoes though (even though it's a good start 😃). You also want to check you shoes' soles. Similar to car tyres, they should have some decent tread depth to it. Because if they don't, you might just as easily take your ice skates for the game.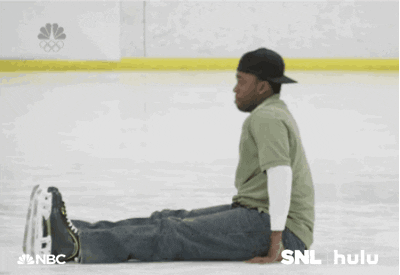 On top of that, it's cool to ensure your shoes have some sort of water resistance. But that's a relatively common feature these days. LOWA Zephyr boots do a great job at this so you might want to check them out. Or if you are after something affordable, there are also cheaper options:
Don't forget a power bank 🔋
This one is important for those recording gameplays. When winter strikes, electric devices suffer from increased resistance (fancy knowledge.. hah), causing increased battery usage.
For this reason, we strongly recommend getting a power bank and connecting it directly to your camera(s). Due to the ease of mounting, make sure to use round power banks with diameters between 25 to 30 mm.
These power banks can be easily mounted on replicas, helmets and other pieces of gear, meaning you don't need to run long cables around your body.
Btw, the same issue with increased battery drainage goes for phones. 😉
PRO TIP: Exchange your Hop-Up bucking 🛠
This one is up for consideration but in general, you might need to use softer Hop-Up buckings in very cold winter temperatures. Reason? Simple. Especially cheap Hop-Up buckings tend to stiffen up when the temperatures goes down.
A stiff bucking can negatively impact Hop-Up effect and ultimately even cause feeding issues, however that's not as common. Just keep this in mind and if you feel like your replica isn't performing as expected during a winter game, this might help!
Know that stuff can go wrong if you're exchanging your bucking without prior experience.