With the SSR9 newly available, it's time to compare it to the popular SSR4. Which one is the better option for you? This guide is especially useful if you are picking up airsoft as these two are both viable options.
The SSR9 is a bit more practical but the SSR4 follows the popular AR15 look. 🤔
What gave way to the SSR9?
The AR15/M4 is an amazing platform for both real steel and airsoft, but there is no reason other than looks for those large 5.56 magazines, simply because you shoot 6 mm BBs and not real rounds. Also, on AEGs, there is no reason for long buffer tubes as there is no large recoil spring to be included.
All you need is a space to put the battery into, and that's where the SSR9 shines. It has all the familiar controls, in a little bit more compact and practical package. We did what we do best: To give you a pre-upgrade gun out of the box. We also added a few features you wouldn't find on your average AEG replica.
Compared to the evergreen: SSR4
The SSR4 is, as a platform, super-easy to use. This was and still is considered one of the best out-of-the-box solutions you needed. But as mentioned before, the long buffer tubes and bulky magazines are not the most practical for airsoft, which is where the difference between the two stands out the most.
The SSR4 is available in both polymer and full metal versions, which might be a plus for some, especially if price is of the essence. The polymer version is cheaper than both the full metal version and the SSR9, so that might be a big deal for people starting out unsure if airsoft is a hobby for them.
It's all about Numbers
Taking what we already mentioned and putting it in the context of numbers, you can easily see that the SSR4 is quieter, heavier and a slight bit longer:
| | | | | | | | | | |
| --- | --- | --- | --- | --- | --- | --- | --- | --- | --- |
| | | | | SSR4 | | SSR9 | | | |
| Weight | | | | 2.3/2.4 kg | | 2.07 kg | | | |
| Length | | | | 74cm | | 65.5cm | | | |
| Muzzle Energy | | | | 1.5J/1J | | 1.5J | | | |
| Loudness | | | | <90db | | >100db | | | |
| Gearbox | | | | V2 | | V2 | | | |
| | | | | | | | | | |
Premium Internals for both
SSR9 has some great internal components you won't find in your average replica, and it shares most of them with the SSR4. If you are choosing between these two, you are not sacrificing performance between the platforms. What are the internals in the SSR9, you might ask:
Rotary Hop-Up has a Number dial to keep track of your last setting. High-end CNC Compression Assembly to ensure the best airflow. Also, to support the high rate of fire our ETU is built to withstand, there are fast 16:1 CNC machined steel gears and 23K High-Torque motor with strong neodymium magnets. This ensures smooth and fast action all the way.
DSG – What the heck is that?
Let's talk about the DSG! What makes it special and what it means. DSG, or Dual Sector Gear, is a wheel in the gearbox that has, as the name suggests, two sectors. These sectors are the parts of the gear that drive the piston of the replica. Plainly explained, that one gear allows you to shoot twice for every revolution.
With that, you can achieve a higher fire rate, however, at the cost of lower muzzle energy. With the SSR9 DSG, you have 36 RPS (Rounds Per Second), while other standard replicas have roughly 20 RPS on average. But DSG is not for everyone. It is not ideal for outdoor fields due to its low 1 Joule output.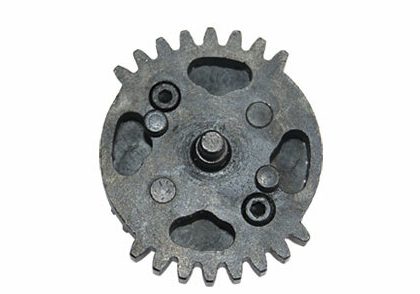 Down and Dirty: SSR9 vs. SSR4
SSR9
Practical & Compact
Same muzzle energy as SSR4
Color options out of the box
Amplifier that scares people *EU only*
Smaller magazines – You can carry more of them
Easy access to the battery compartment
SSR4
Classic design – If you want to be like in the movies
Who doesn't want an AR-style rifle?
Two options: Metal and Polymer
The SSR4 polymer version is a bit cheaper than an SSR9
Easy to find pouches for M4 Magazines
Conclusion
If you want to have a replica that is designed and optimized for airsoft, then you should consider the SSR9. With its sleek design, the SSR9 is aimed at airsoft as a sport, and the replica as a performance platform. If you want to save a bit of money and wish for a more classical replica design, you should go with the SSR4.
You won't make a mistake with either of these two replicas. They are roughly the same when it comes to internals and are both great picks for beginners, so be sure to visit us at novritsch.com and check them out!