When choosing, most of the time you have two options: a spring-powered rifle and a Gas-powered DMR. Each plays a bit different and excels in specific areas so you should consider how does that go with your playstyle.
Are you familiar with these? Jump to product overview.
Spring-powered rifles are overall a great solution in terms of price to performance ratio. These are less pushy, more difficult to play and extremely satisfying when you get it right:
Spring-Sniper Advantages:
Simple design
Reliability & Longevity
Little to no maintenance
Customizability
Spring-Sniper Drawbacks:
1 shot per bolt pull
Less pushy playstyle
More difficult to play
Gas-powered DMRs have more moving parts. They are easier to move with, more versatile and still extremely precise. The fast pace makes it very fun to play!
Gas DMR Advantages:
Increased mobility
Follow-up shots
Useful for more playstyles
Customizability
Gas DMR Drawbacks:
Requires a bit more care
Needs Gas to operate
Not as simple as a spring rifle
When you're choosing between those platforms, make sure you know what play style suits you the best. Playing with a bolt-action can be very tricky if you don't know your way around yet, so we recommend trying it out beforehand with someone else's gun.
With the Gas DMRs, you get a gun that is more of an all-rounder, giving you solid distance and extra mobility. However, besides having to buy Gas, these can't take as much beating as the simpler-in-design bolt actions. From our experience, this won't be as much of an issue if you handle your gun with respect.
Platform Overview
Based on the mentioned These are the most popular sniping platforms, each will serve the best to someone else:
The SSG10 Platform

– Solution favoured by many. It uses the popular VSR platform, adding performance parts and 25 years of warranty. It is a Spring-powered rifle.
The SSG96 Rifle – A bit larger, bulkier rifle following the legendary L96/AWP design. CS:GO masterpiece powered by a spring.
The SSX303 Gas DMR – Optimized for performance, this rifle aims for maximum gas efficiency and accuracy while being minimalistic.
For spring platforms, we also have a more detailed comparison on our Blog.
The Novritsch SSG10 Platform
The SSG10 is a great all-rounder long-range sniper. There are 3 variants of the SSG10, but the core is the same system – ensuring accuracy and performance for every rifle.
SSG10 A1
If sniping is your playstyle and you want to do it cheaply, this is the way.
Simple Design with the same battle-proven core system.
Not overburdening with features
A rifle for those who want the best in terms of Price/Performance ratio.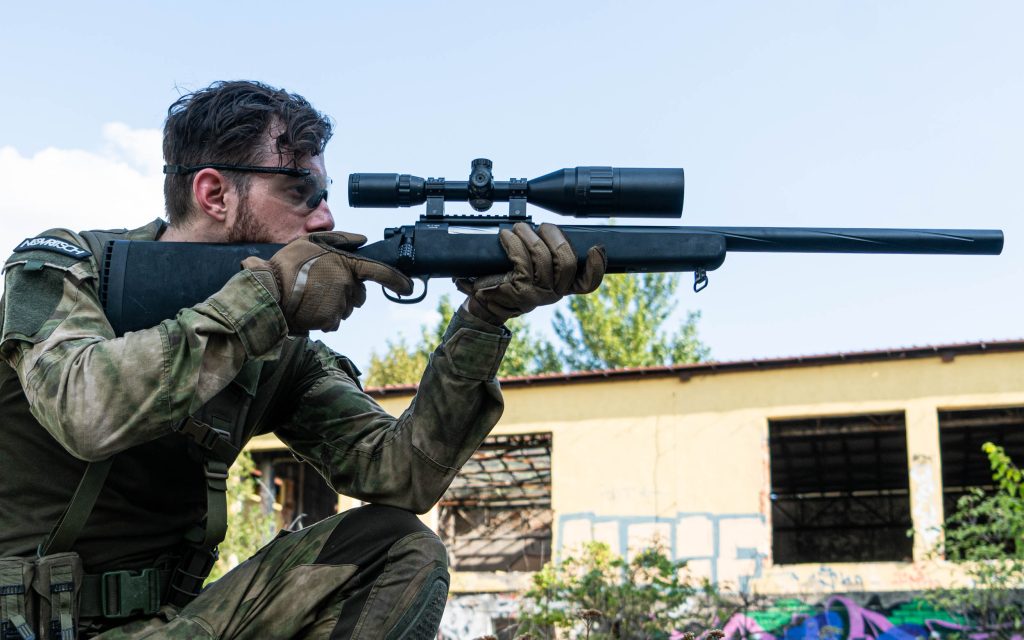 SSG10 A2
More features: Adjustable cheek rest, Enhanced bold handle, MLOK System
2 Barrel Lenght Variants with the short one giving new mobility options.
A rifle for those who want a typical design mixed with modern Sniping Features.
SSG10 A3
This is the MIN-MAX variant. Minimalistic package with Maximum features & performance.
Foldable stock for easier transport, rails and adjustibles as with the A2
A bit more expensive but also very recognizable.
A rifle for those those who just want

the best features and looks

.
There's a number of SSG10 choices for different people. If you're not sure, you can always get the SSG10 A1 & get an A2 or A3 stock and bolt later.
The Novritsch SSG96
The SSG96 is a classic intimidating design best known for being featured in Counter-Strike as the deadly AWP. Compared to the SSG10, this rifle is a bit bulkier and heavier with the same accuracy and performance. Great for those who want a "big piece of a gun".
Balanced Design built on the proven L96 Airsoft Platform
Extremely comfortable ergonomics
Fairly priced. Comes with Quick Spring Exchange for performance adjustments.
A rifle for those who don't mind weight and like the design.
SSX303
The SSX303 is a lightweight GAS DMR. This gun is less of a long-range deadly sniper, but more of a mid-range support weapon. It allows you to stay with your team and fight alongside your teammates. The accuracy of this thing is extremely satisfying, yet difficult to describe as a part of the text.
Semi-Automatic – no bolt manipulation, fast follow-up shots
Extremely Light & Quiet (1,6 kg or 3,6 lb)
Magazine Interchangeability with the SSX23 Pistol – you can have 1 magazine setup.
A rifle for those who like to move a lot and don't need maximum range.
To learn more about the DMR role & using the SSX303 effectively, check out our article on how to play as a Designated Marksman.
Conclusion
All variants we covered are extremely accurate and will outrange AEGs in the field. Gas DMR works the best for fast-paced pushy players, Spring rifles for those who can take the time to shoot and outperform others.
The SSG10 is a classic design that is very lightweight.
The SSG96 is an iconic military sniper that so many people love.
The SSX303 is a custom DMR that's still effective at close range.