For a vast majority of cases, the best beginner setup has to be as universal as possible. For this reason, running an AEG with a decent rig comes out at the top as this loadout will work regardless of the conditions.
💡 Airsoft electric rifles make for the best beginner setup. The SSR4 is a great example worth exploring!
In this guide, we also cover the possibility of getting a sniper rifle. Not because it's better but because many people like it. For starting out, we wouldn't recommend it but we will get to that.
Best AEG Loadout: The Novritsch SSR4 Assaulter
Let us briefly walk you through all the stuff you need for your first airsoft setup. We won't just cover the gun part of the gear but also accessories and other possibilities. We also have a video covering this topic.
For the AEG setup, we would go with the new Novritsch SSR4 every day. Not because there wouldn't be other alternatives but because you get extra features which aren't really common to other beginner guns. This means you have very solid performance and firepower for basically any airsoft game. All that for a decent price.
Moreover, the Novritsch AEG comes with all the support you might need. An Academy to get you started, customer support if you have any questions and spare parts in case you need anything. As we ourselves are also airsoft players, we have a pretty good idea about what such an AEG should look like. Straight out of the box reliable and accurate. That are just a few reasons for you to explore the system.
AEG Accessories
To go along with the gun, it's not a bad idea to grab some accessories. For starters, just a simple red dot and a hand stop would work the best. Of course, you can go crazy on all the flashlights and other things but we don't think you'll need them. Or you can just run the thing plain and simple and it won't disappoint.
You also need a few things to go with an AEG. To run the gun itself, you need 4 things in particular: BBs, a battery, a battery charger and a magazine. The magazine is already included with the gun, however, for longer games, you might want to get 1 – 2 spare magazines as well.

For BBs, most AEGs run reliably when using 0.28g BBs. For batteries, it may get a bit tricky. If you consider getting a Novritsch AEG such as the SSR4, you will always find a direct battery recommendation on the website. For these, a solid LiPo battery is your best bet. And based on the battery, you just pick a simple LiPo charger. As easy as that.
Gear to support an AEG
Besides the gun, you should definitely get yourself some safety gear. Safety goggles or glasses, depending on your preference, a mesh mask and a pair of knee pads. Pro tip: tactical pants with integrated knee pads are a very comfortable way to carry knee protection around. Also, helmets are a great addition if you often go for CQB fields.
Tip on choosing glasses
By the way, if you sweat a lot, you might encounter an issue with fogging goggles. This one is common for many airsofters. To fight it, there are many methods. Most effective in our opinion is getting quality antifog goggles, ideally with a double protective glass layer. These break up the temperature difference between the outside and your face, resulting in no fog. Feel free to check out these goggles we offer on our website.
Carrying platform
On top of the mentioned essentials, you should consider grabbing a carrying platform for yourself. This helps you a lot when carrying around your spare magazines and your other belongings, such as a mobile phone and keys.
💰 Plate Carriers go best along an airsoft AEG. Chest rigs are a budget option.
A plate carrier fits the Assaulter loadout the most but there are also other options. Basically, if you want to go on a budget, a Chest Rig with a bunch of simple pouches would do the trick. Or you can take a look at the Battle belt. A bit more compact solution. You can find and browse all the variants on our webshop.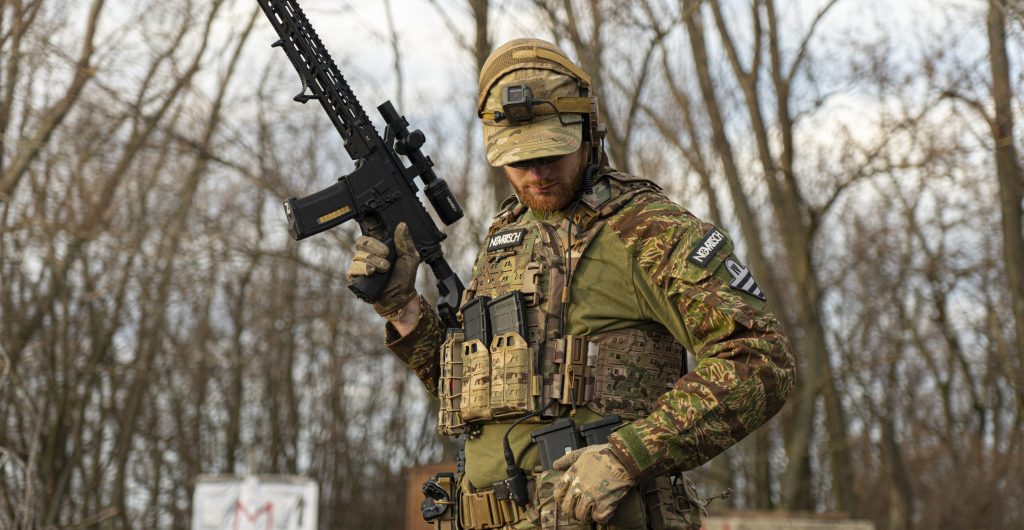 Ghillies: Yes or No?
If you intend to play in the forests, some people opt for Ghillies. In our opinion, this makes sense in the later phases of your airsoft journey where you are more likely to fully utilize the benefits such a suit brings you. Instead, make sure to get a comfy uniform with a camouflage you like and is useful. No need for overkill.
Extra Gear
Besides all the things already mentioned, getting a Maintenance kit is a good idea as you are going to clean the barrel from time to time, which is much easier with the kit. Lastly, if you play with friends, it's a good idea to grab a radio. But for the assaulter loadout, it's not as necessary.

Starting as a Sniper – how to do it?
Just so it's mentioned, the sniper role is not a great choice for any beginner. It's more difficult and the role is overall better suited to experienced players. However, if you still want to do it, make sure to check out the following video: