Red dots or Scopes? Choosing the right sight for airsoft has a huge impact on your rifle's efficiency. Let's go through the options and help you pick the best!
If you fancy a video summary, we made one just for this purpose! Make sure to check it out if you don't feel like reading:
Considering a specific setup? Then jump straight to it:
Best airsoft Red Dot sights
Red dots are the go-to option for most people. Simple and affordable. We recommend them for both pistols and rifles. You can mostly choose by the looks.
Starting with red dots, they are sturdy and simple while providing a much clearer view than if you were to use iron sights. Your biggest deciding factors – besides looks of course – are the wide field of view the sight provides as well as its physical size.
Red Dots for airsoft pistols
The most underrated sighting devices are Micro red dots for pistols (and rifles). Especially when running a pistol, we found that having the option to quickly connect one dot to your target often gives you the upper hand in a pistol shoot-out.
Super-compact and clear
Useful for pistols and rifles
Great when always moving
Requires Red dot plate to mount on pistols
May obscure the field of view due to small sighting image
Red Dots for Airsoft Rifles
With Red Dots for airsoft, the selection is relatively straightforward. There are just a few simple points to bear in mind:
Super-cheap is not the way
Sometimes you may stumble upon airsoft red dots for 10 €. These are mostly plastic and offer no great adjustment options, as well as only limited illumination. We found out that these are not worth the hassle for airsoft.
Do you play with a Mesh mask?
This one is airsoft specific. If you look at the picture of the minimalistic SSR90 set-up, you can reckon that Josef doesn't use a regular mesh mask. However, if he wore one, this setup wouldn't work due to a bad alignment: the red dot would've been too low.
For most players, it's a good idea to get a Red Dot that sits a bit above the mounting rail.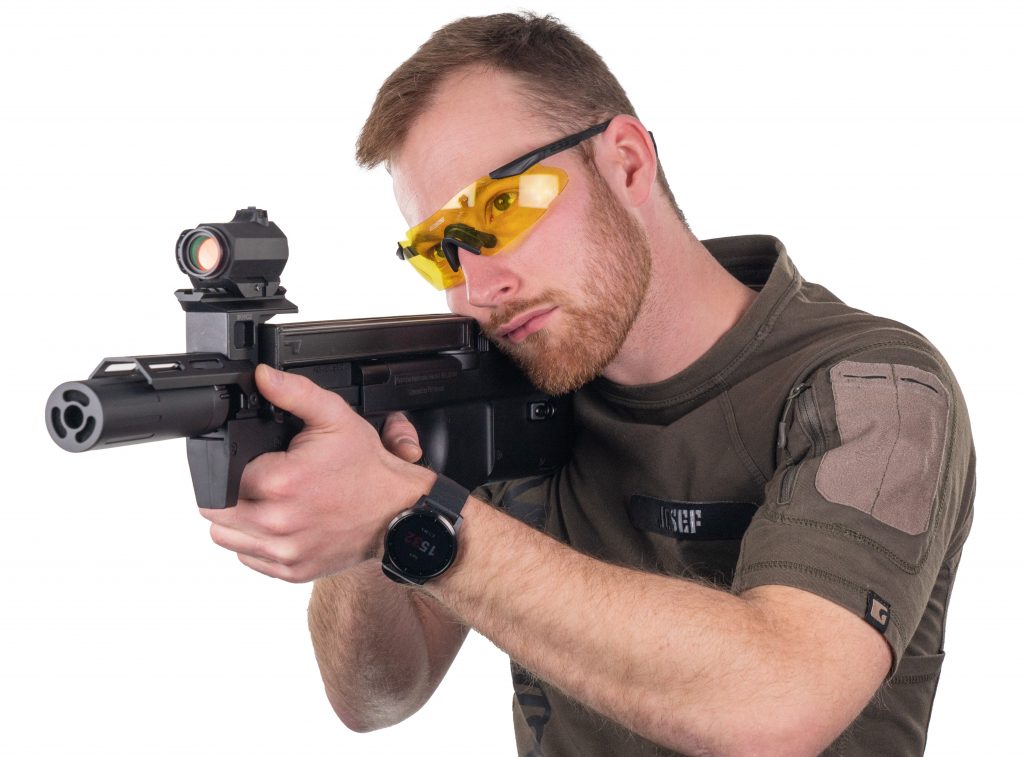 Field of view and the risk of breaking
Here we use the Red Dot V4 and V3 as an example. The V4 is superb for a CQB setup. Its low profile offers a wide field of view. On the other hand, the glass is a bit bigger, making for a slightly larger target. Therefore, if you fear that someone might hit your red dot and break it, the V3 is superior, as you can easily put a Killflash on it.
Rifle Red Dots summarized
All-round good for most airsoft engagements
Fast target acquisition even while moving
Enough options on the market
Durable options are affordable
Not ideal for snipers
The image will be darker
Need batteries to run
You might want a Killflash
Red Dots with a zoom?
When using red dots, there is always the option to use an additional magnifier optic. The best of both worlds for when you need to sweep a building for enemies or take a shot at an enemy sniper. Having similar adjustments to a typical scope, a magnifier can be adjusted to suit your particular sight.
Fast switch 1x/3x zoom
Retains the advantage of an non magnified optical aiming device
Tactical look and feel
For both CQB and forest
Heavier than a scope
More expensive than a scope
You need to get a red dot that aligns with the magnifier.
Remember, the best red dot sight is always a personal preference, there is not a single answer. Always keep in mind the engagements distances and conditions you will face before choosing the one for you.
Airsoft Scopes for Snipers & DMRs
Airsoft scopes are the go-to if you are the sniper. The magnification greatly helps when finding targets at a distance, as well as when you need to see where your BB went. By the way, proper sighting of scope is super important! That's why we made a special guide:
When buying an airsoft scope, we recommend considering these points:
Cheaper is not always better – some cheap copies have for instance reversed reticle adjustments or low-quality lenses.
Make sure you're getting both the scope and the mounting rings you need for your rail.
Consider the optimal magnification for airsoft. Sometimes you don't need a larger magnification and can use a lighter scope.
Getting a Killflash is generally a good idea.

H
ow much magnification do you need?
Scopes come in a range of magnification options. Some even have variable magnification such as our Rifle Scope Set.
From years of experience, 4x magnification is more than enough for balance between magnification and practicality in the vast majority of airsoft uses. Larger scopes are more for looks.
The 1-4x magnification scopes like the 1-4x Variable Scope are great for a DMR platform. They are lighter than regular scopes and offer a quick change of magnification. If you like the looks, these are truly the pinnacle of airsoft sniping efficiency.
Airsoft scopes: advantages vs. drawbacks
They require no batteries
Magnification for snipers
Sniper rifles don't look good without one
You can get them for a decent price
Not that suitable for CQB
Heavier than most red dots
The risk of getting shot